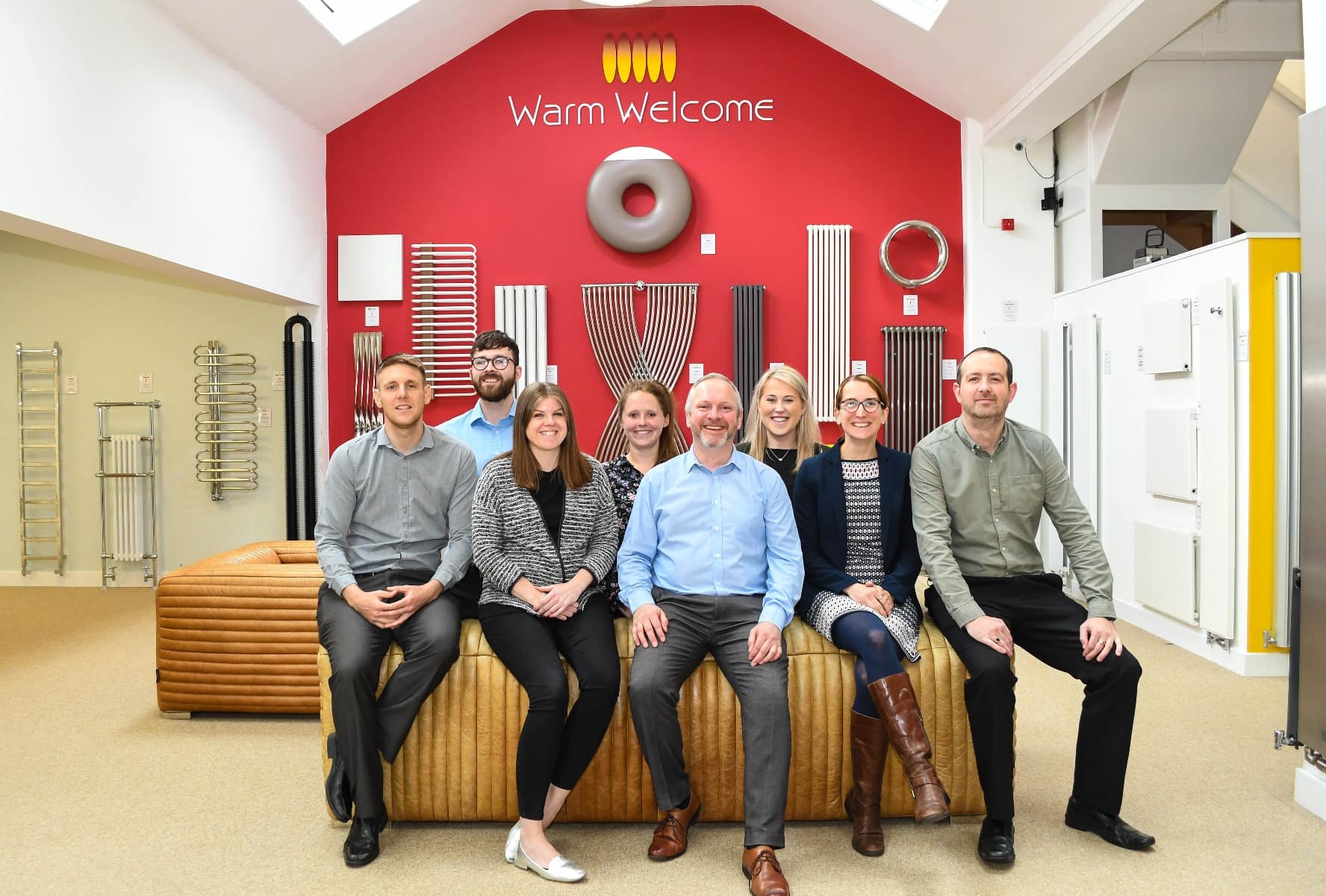 OUR PRODUCTS – they're second to none
OUR SERVICE – we're dedicated to making your experience of buying radiators as easy and enjoyable as possible
AND OUR REPUTATION – we're widely regarded as the best in the business. The first of our kind, we lead where others follow. We are a family business where every customer counts. With years of experience behind us, we have a proven track record, and are here to stay.
We have been independently recognized as a reputable company
In 2005, Feature Radiators was named as one of the top ten national finalists in HSBC's Small Business Awards. "Pioneers of the radiator world, Feature Radiators have played a major role in the way we perceive the household radiator. The company have gone from strength to strength, thanks to its unique vision, quality products and unrivalled service. The number of repeat customers and word of mouth recommendations speaks volumes. I am delighted their achievements have been recognized. " commented Lucy Rushworth of HSBC. To date, Feature Radiators are the only radiator company to have been selected for this award.
Our prices are highly competitive
Well known and respected within the industry, our direct arrangements with leading importers and manufacturers enable us to provide quality radiators (many exclusive to us) at highly accessible prices.
We are a true specialist
We specialize in radiators, just radiators. Radiators are not a side-line for us. Our sales team's product knowledge is unrivalled. They can direct you to the best radiators available for your project, in terms of style, budget, lead-time and performance, which in turn will save you time, money and stress.
Our sales team don't work on commission. Their goal is simply to find you the right radiators, no matter how big or small your project and whether you are a trade or retail customer. We want you to recommend us, and the honest, unbiased advice of our sales team reflects this.
We have a designated technical department, with years of relevant experience, to help with more complex issues. And if you're not au fait with all things technical, our team are happy to talk directly to your plumber, heating engineer or project manager.
We hand pick the best products on the market
Our collection is made up of the best radiators on the market in terms of quality, design and value for money. Our experts have a keen eye for detail and innovation and have only selected products which are finished to a high standard and are made to last. In other words, we've done the research for you and only sell products we believe in.
We are not in the business of selling cheap radiators or towel rails where the quality is inferior and the finish is poor (such as nasty brackets or rough chroming). Similarly, we won't promote a radiator if it doesn't represent good value for money, even if the quality is good (e.g. where the performance is poor and the price high).
We strive to stay on top of industry developments, to make sure that our range always includes the best radiators available. If we can't find what our market wants, then we commission it. These exclusive lines have proved popular and have become the envy of our competitors.
You can see our products on display in our showroom
Our radiators can be seen "in the flesh" at our showroom, where there are over 250 radiators and towel rails on display, making it the most comprehensive collection in the UK. Visitors travel from all corners of the UK to visit us. We've had customers travel from as far away as Cardiff, Southampton, Exeter and Aberdeen (and the neighbours of the Cardiff couple visited us the following week!). Orders can be placed over the phone or by email, but if you prefer to see and touch the radiators, and meet our experts in person, then a visit to the showroom is well worthwhile.
We are responsible sellers – in it for the long haul
At Feature Radiators we focus on talking to our clients, whether it be in the showroom, by phone, email or live chat. By talking to you, we can ensure that we sell you the right radiators for your project – matching your requirements in terms of heat output, dimensions, design, budget and lead-time. If your chosen item is out of stock and you're in a rush, then we can suggest good alternatives, saving valuable time. We can also make you aware of other relevant issues such as how the delivery procedure works or information specific to a particular style. However limited or extensive your knowledge of radiators and central heating systems, we are here to help.
We treat our customers the way we would want to be treated
Our customer services team are here to ensure that you are kept informed throughout. Our service is friendly, honest and efficient. Unlike many of our competitors, we have sufficient staff to ensure that our telephones are always answered during office hours, and your enquiries are dealt with promptly.
We are always keen to hear customer feedback as we are constantly reviewing our procedures and adapting where necessary.
We are here to help if things go wrong
An important point in choosing where to buy your radiators from, is what happens if things go wrong? As with any other product you purchase, there is always a risk, however minor, of the goods arriving damaged, or with a manufacturing fault. If problems arise, we won't disappear, we will work with you and strive to find the best solution. If a replacement is needed, we appreciate the inconvenience caused, and will pull out all the stops to get it to you as soon as possible.
We deliver nationwide for a nominal charge
We deliver all over the UK mainland (and off the mainland if there's a bridge e.g. Anglesey). We don't deliver direct to places outside the UK mainland, but can deliver to a nominated shipping agent, for onward transmission to site. We use transport companies that specialize in handling fragile goods to limit the risk of damage, and subsidize the cost, rarely charging more than £25 per consignment.
We are always keen to hear customer feedback as we are constantly reviewing our procedures and adapting where necessary.
See All Our Testimonials