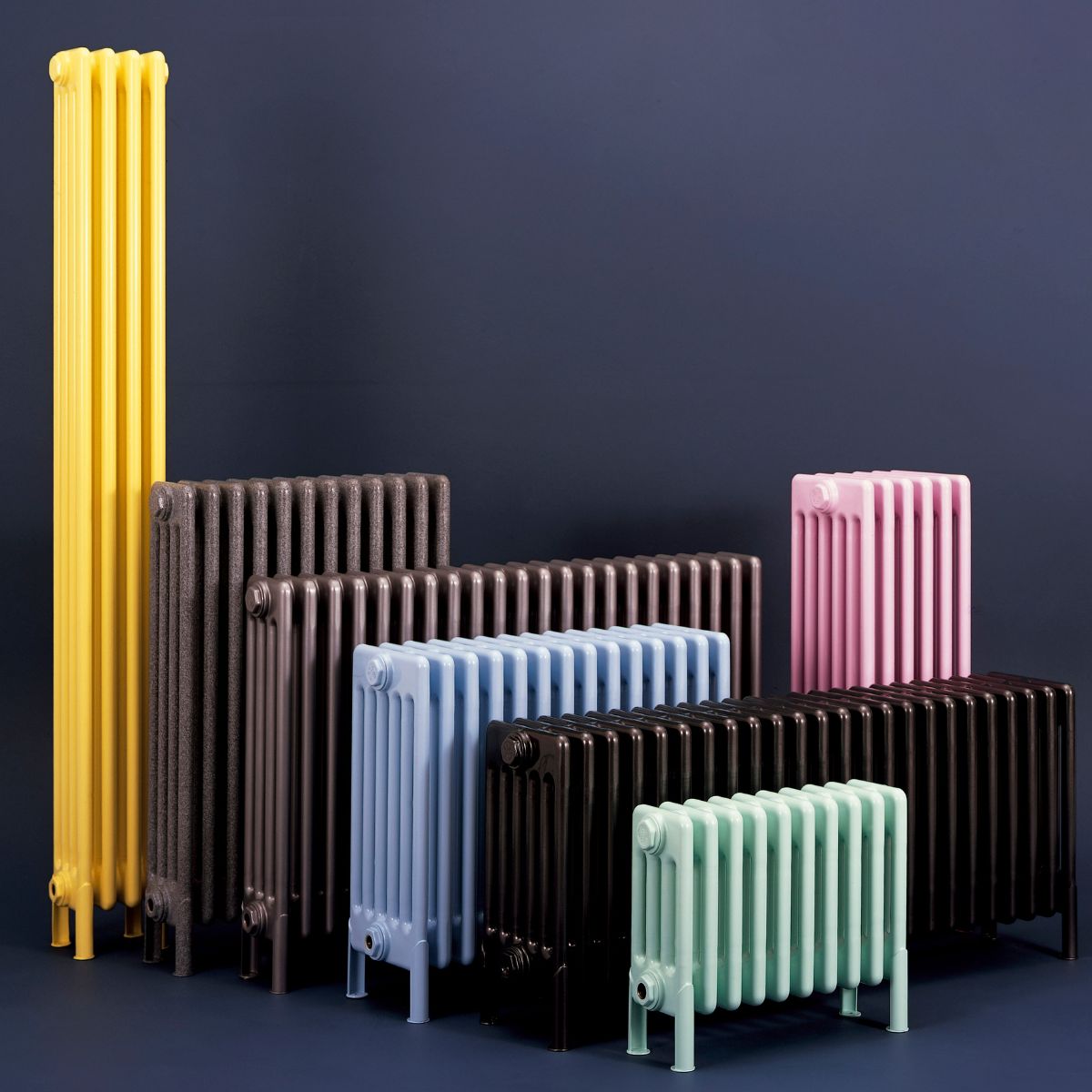 When you think of a classic radiator, the column radiator often comes to mind. This truly classic design looks fantastic in any setting. But as well as offering stylish good looks, it also provides excellent heating for any room, keeping you cosy and warm on cold winter days.
Column Radiators are ideal for both modern and traditional interiors. Explore the collection below and you will find that there is a huge range of styles and colours to choose from.
For fast delivery, you can choose stock white and we'll send your radiator right away. However, you can also choose your ideal style and finish with our bespoke service. Or you can choose from our selection of bare metal column radiators for a more industrial look, or go for something bright and bold colours like a yellow or blue radiator.
For an affordable option for the home, Column Radiators are a great choice. They are also incredibly flexible, so you can choose from a wide range of styles. For example, you can choose from both floor-standing or wall-mounted designs depending on your room and the style you are going for.
You can choose from different depths as well, with two, three and four-column radiators available. They also come in standard horizontal designs as well as other designs like tall vertical radiators, which are perfect for fitting into narrow spaces.
Or for something really special, choose a curved column radiator. These are designed to fit around bay windows, spiral staircases or anywhere that the wall is curved.
Pod radiators boast a timeless design with their beautiful curved tops. They provide excellent heat outback combined with a retro design and iconic styling, making them a popular choice.
The best way to discover the variety on offer is to browse the column radiators below. We've got lots to choose from so there is something for every home. If you want a high-quality column radiator, whether you've got something specific in mind or you want to consider your options, explore our range of column radiators today. Ask us any questions you have and we'll be happy to discuss your options.
Find the Right Column Radiator for Your Project
For the team at Feature Radiators, it's all about making sure our customers find the perfect radiators for their homes. Our sales team doesn't work on commission, and they are 100% focused on helping you find the right radiator according to your needs.
We have spent two decades working with radiators, and we have provided our customers with countless Column Radiators during that time. We will work closely with you from start to finish, answering your questions and helping you to decide which type of radiator, style and finish is right for you.
When you've chosen, we'll send your Column Radiator to your address safely and securely packaged for your peace of mind. We also offer FREE shipping to UK addresses. So explore our range today and get in touch to find out more.
Heat Calculator
Calculate My Heat Requirements
FREE UK Delivery
Spend over £100 and get free UK delivery.
Buy With Confidence
Prior to your order being processed we will call you to check details.
Visit Our Showroom
Know what heat output you require? Enter it into the below field and we'll let you know if a radaitor is right for your room.
Not sure what output you need to fill your room with heat? Complete the form below to calculate your required heat output.
My house was built after 2002 or is well insulated (part L compliant)
My room has French doors / large window.
My room has single glazed windows.
My room is exposed & colder.

Column radiators – Traditional column radiators & Modern column Radiators
Column radiators are often referred to as a hybrid, as they combine the traditional elegance of the yesteryear but, in the correct setting, can also look like modern masterpieces, giving you an excellent option for using a column radiator. Our flagship model is the Core column radiator, available as both a horizontal radiator or a vertical radiator and as standard available in white, lacquered bare metal and wonderfully textured anthracite. We can offer a variety of sizes at a quick lead time in any of those radiator finishes. The core column radiator is manufactured in Italy, which has long been the place that produces radiators of the highest quality using high-quality grades of steel in making these designer radiators.
Column radiators are available in differing depths. This means more columns from the back to the front of the radiator, allowing an increase in heat output to be achieved by having more columns within the radiator. Because of this, column radiators should be situated in most interior spaces because if you can't have the radiator width or height required to generate the heat you need, you may well be able to have the depth of columns to create the heat.
Column power
The design of the column radiator maximises the output it can produce, and with differing column depths on the horizontal column radiator and the vertical column radiator, you can be assured of high heat outputs.
We can start as low as 192mm and go as high as 2202mm, so we believe the column radiator can meet everyone's requirements, no matter how specific.
Regardless of your home interior style, column radiators provide versatile designs in various settings. Whether you're after a column radiator to perfectly complete a traditional feel or a contrasting statement to a contemporary style, column radiators work for you.
Whether you go for a horizontal or vertical column radiator, we can provide it with a colourful finish. Our specialist paint set-up can paint the radiators in a range of RAL colours with over 188 to choose from, with some fantastic and exquisite special finishes such as matt black or textured white.
Column radiators bring chic to an interior at affordable prices. The benefit of considering column radiators is that they are a timeless classic. As your interior may change or develop over time, the radiator seamlessly adapts to its surroundings, looking as up-to-date and new as the day you bought it. A benefit of the column radiator is its ability to achieve high heat outs and its wide range of bespoke sizes. Your funky radiator can be made to be as close to your exact specification as possible. Modern radiator manufacturing is more understanding of customers' specific requirements.
To back up the point about the versatility of the column radiator, it can also be curved, so should your home have a bay window, we can build a column radiator to fit that curved bay exactly. This means you can use your bay window space to heat your room. The column radiator can only be a horizontal curved radiator, but again we have many different column radiator depths and heights available to suit all bay windows.