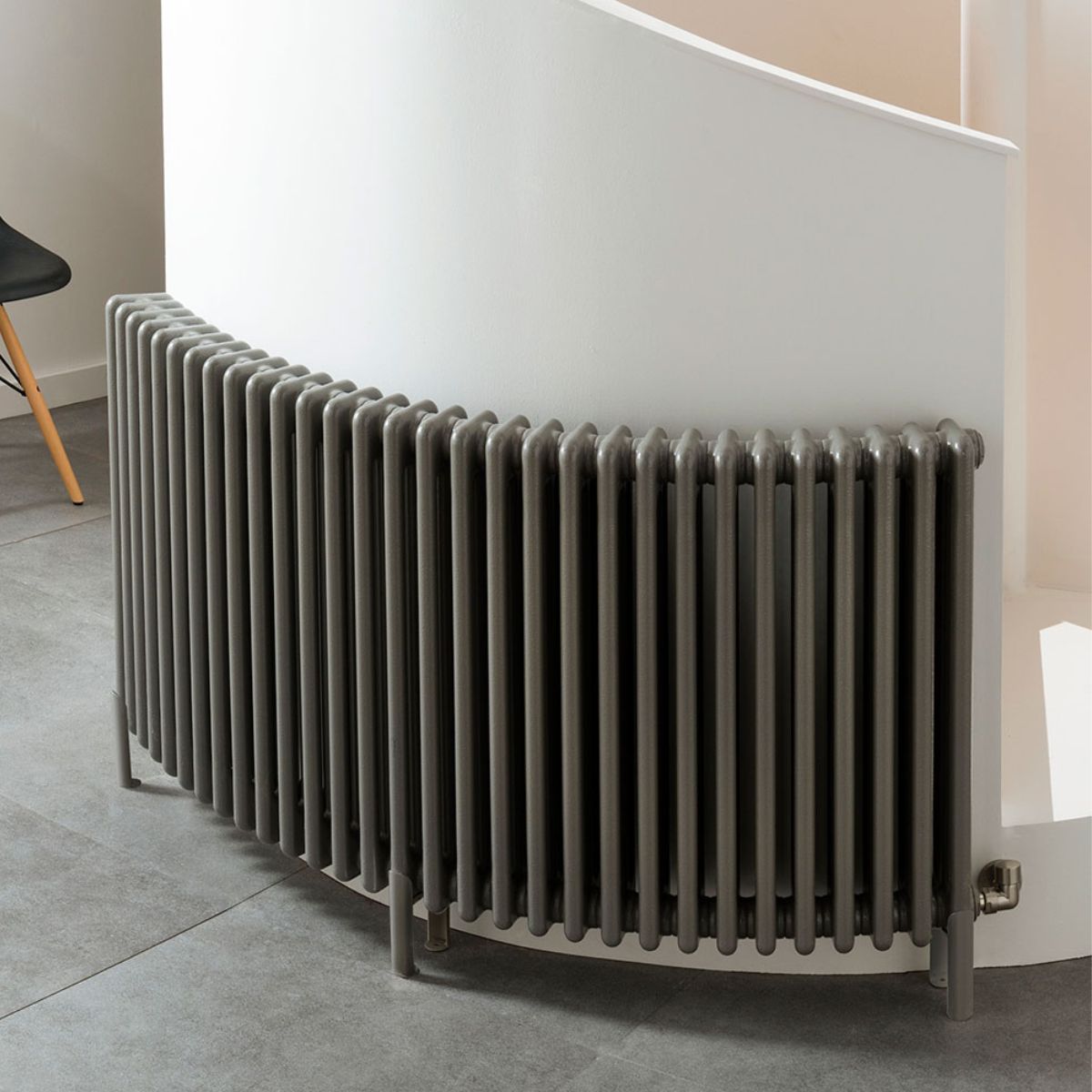 Straight radiators may be the most common designs, but we also offer beautiful Curved Radiators at Feature Radiators. These stylish radiators are built to the same high standards as all the radiators we sell, but they feature unique curved designs.
Why would you need a curved radiator? You may live in a period property with bay windows, in which case our Curved Core Column Radiators are perfect. They fit along the curve and are short enough to go right below the bay window in a concave design.
You might need a convex design instead in order to go around a curve in the wall, like around a spiral staircase. Our Curved Radiators can be either concave or convex according to your requirements.
These curved radiators look splendid. They come in a range of colours as well as lacquered bare steel and textured finishes, so you can easily find a radiator that matches the style of your home. Your radiator will be a real feature of the room and something a bit different that will draw the eye.
Curved Radiators are perfect for traditional and contemporary interiors. But they don't just look good – they perform too. Our curved radiators boast impressive performance, warming your home nicely on the coldest of days.
If you have any curved walls in your home and you know that a radiator would look just perfect, get in touch today to find out more.
High-Quality Curved Radiators from the Best in the Business
When people are looking for a radiator that is made to the highest quality and designed to last, they come to Feature Radiators. We've been in the business for two decades, and we specialise in radiators and nothing else. You know that you're choosing the experts when you get your Curved Radiator from us.
With our Curved Radiators, we suggest contacting us to discuss your exact requirements. You probably have a specific space where you want your radiator to go, and it's important to make sure it is the right size and shape. We will also discuss finishes and styles so you can find the perfect Curved Radiator for your home.
All radiators are packaged safely for your peace of mind. And when you choose Feature Radiators, you can be sure that we're here to help you if anything goes wrong. Our customer service is second to none, just like our radiators.
So contact us today to find out more, and remember that shipping in the UK is FREE!
Heat Calculator
Calculate My Heat Requirements
FREE UK Delivery
Spend over £100 and get free UK delivery.
Buy With Confidence
Prior to your order being processed we will call you to check details.
Visit Our Showroom
Know what heat output you require? Enter it into the below field and we'll let you know if a radaitor is right for your room.
Not sure what output you need to fill your room with heat? Complete the form below to calculate your required heat output.
My house was built after 2002 or is well insulated (part L compliant)
My room has French doors / large window.
My room has single glazed windows.
My room is exposed & colder.

Curved column radiators - core

Perfect for bay windows in period properties or 30s semis, our best-selling column radiator can be made in a concave curved design to perfectly fit your space.

Price on Application