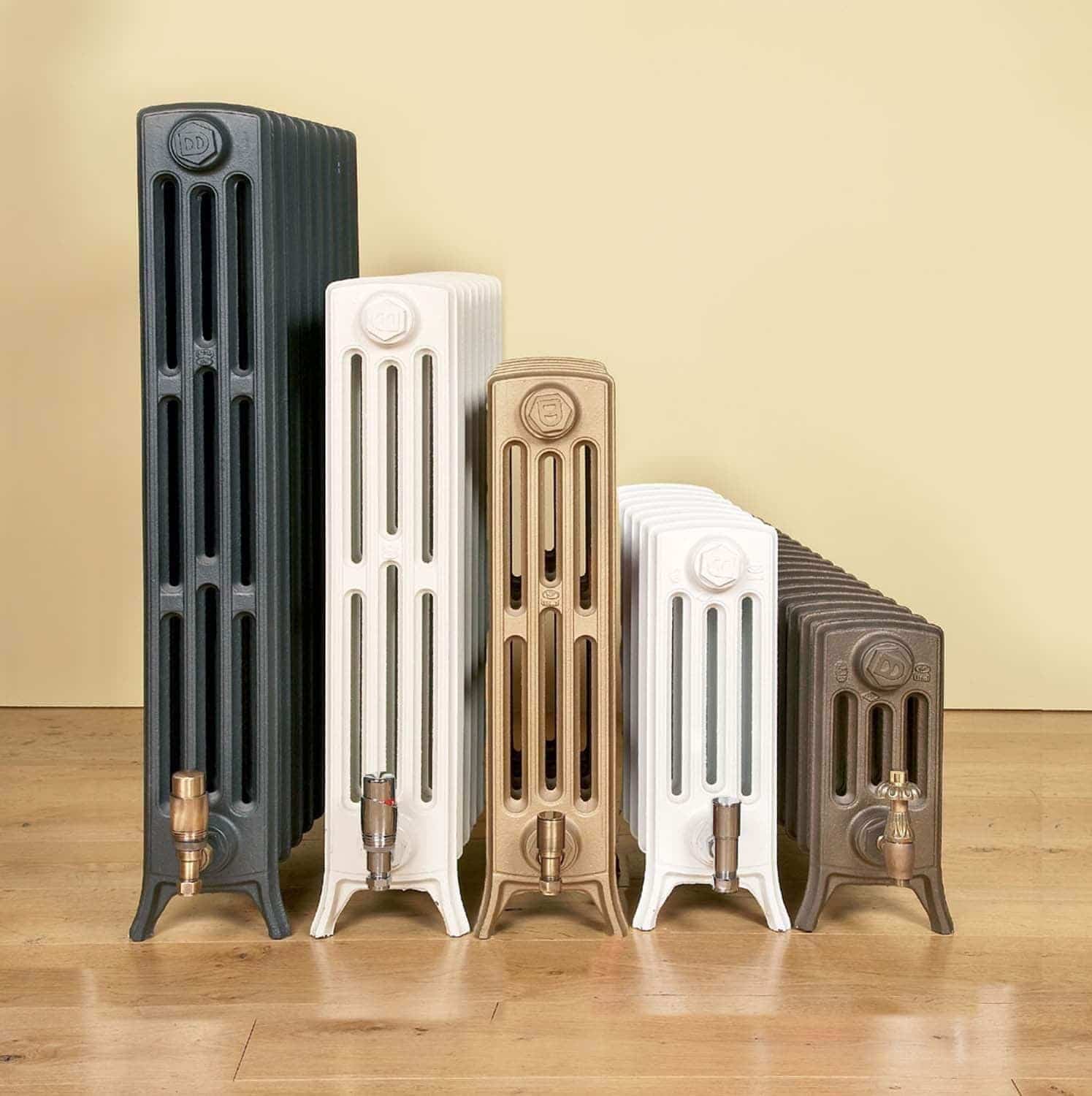 Our range of traditional radiators consists of authentic cast iron, bare metal, ornate, curved and vertical column radiators as well as modern twists on vintage radiator designs.
Choose from plain column models in colours matched to Farrow & Ball shades or hand-painted ornate castings.
We offer a huge range of sizes and finishes, with options for any property. Consequently our cast iron radiators have been installed in 1000s of Victorian terraces and even a few National Trust houses.
Inspected by our experts, each model in our range meets our exacting quality standards. We consider all aspects like finish, design, performance and value for money. We also offer a range of traditional style thermostatic radiator valves. These come in a range of period finishes such as antique brass and pewter to complement any of our radiators. With long warranty periods, cast iron radiators are guaranteed to add traditional character and charm to your home for years to come. 
Our History With Traditional Cast Iron Radiators
Feature Radiators has been selling cast iron radiators for nearly 20 years. We started out as a salvage and reclamation company specialising in old radiators. Our founder, Phil Jackson, spent many hours inside the old schools and mills of West Yorkshire, saving big lumps of cast iron as the buildings were being demolished or renovated around him.
We then sand blasted, tested and painted every radiator to order – very hard labour, but rewarding work. Phil then found out that there were still a few foundries making new cast iron radiators in Europe. Therefore, he quickly realised that, lovely as salvaging old ones was, there were many benefit to supplying new ones. Going for newly cast models rather than reclaimed means long warranty periods and a huge choice of styles, sizes and designs.
20 years ago there were still some foundries in Europe and the first of the Chinese foundries were just starting. Now there are few European foundries left and a lot of the casting is now done in China – to varying levels of quality. The UK is sadly now just limited to assembly and painting, but it is simply not financially viable to cast the sections here.
We have spent 20 years working with cast iron radiators and the products we sell are the ones we consider to be the best available. They meet our exacting standards in terms of quality and come from the most reliable factories in both Europe and China who ensure our products are finished to the highest of standards.
Read More
FREE UK Delivery
Your radiator will be delivered safely packaged as soon as it's ready for your peace of mind.
Order with confidence
Prior to any online order being processed, you will be called to check through your order details.