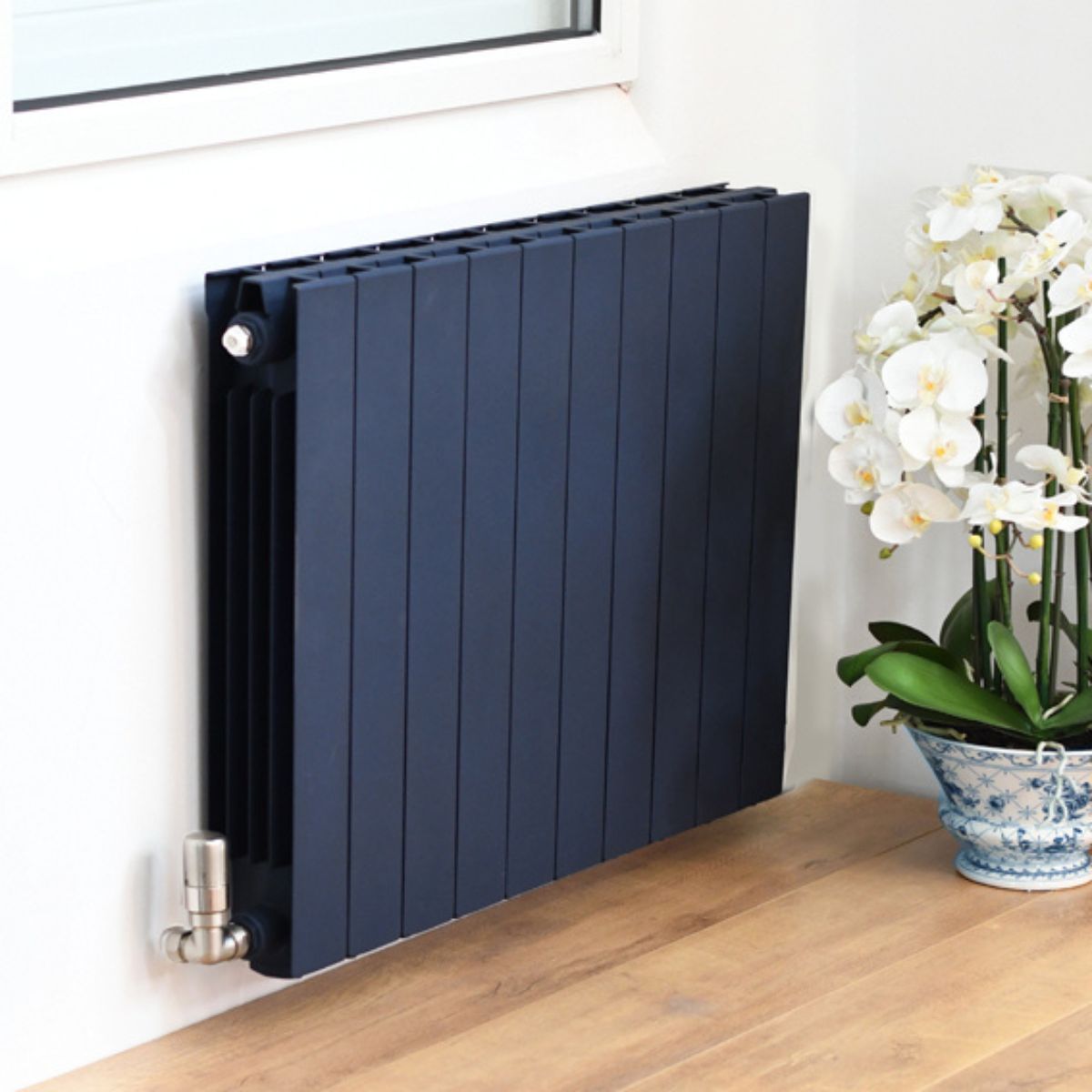 Aluminium Radiators are a popular choice for many reasons. They are lightweight and come in a huge range of styles and colours, they are easy to transport and hang, many have modern designs that look stunning in any home, they have excellent heat output, and they come with a slim profile and clean lines.
Choose from a huge range of Aluminium Radiators in our store today, including Ronde Designer Radiators. These smooth and sleek radiators have a fast reaction time and low water content. They are powerful but beautiful radiators that will look amazing in any room.
Alchemy Aluminium Radiators have clean lines, simple styling and high performance. They are very efficient too, making them a good eco-friendly choice. Or explore our Stag Radiators, which have a high heat output and a 30-year warranty.
But there are many more designs to choose from, including Vertical radiators that are slim enough to fit into any space, tubular radiators, compact designs, or Designer Blok Aluminium Radiators for something that really stands out.
Aluminium radiators provide a great option for the sustainability conscious; they are made from recycled aluminium (in the main) and low water content means less energy usage. They are the best heating solution for the environmentally friendly radiator specifier.
Go on and take a look to see if anything stands out to you. And remember that we are always here to help you make your decision.
High-Quality Aluminium Radiators
At Feature Radiators, we only sell products we genuinely believe in. We only want the very best radiators here. That's what we are known for, and what matters to us most. We don't work on commission, and all we care about is ensuring our customers go away happy knowing that they have found the perfect radiator for their home.
Browse our collection of Aluminium Radiators today and see what you can find. Does something stand out to you? We will be more than happy to answer any questions you have to help you make your decision. Want some suggestions? Just ask!
We love radiators and it's so important that we help you find the right one, whether one of our Aluminium Radiators or something else. Our reputation matters to us, and we are widely considered the radiator experts and that is something we take very seriously.
We stay on top of all the latest industry developments, and we only sell the best radiators that have been fully checked by our experts. We'll send your Aluminium Radiator to you safely packaged, and we even offer Free Shipping in the UK.
So start here today, explore our range and find your new Aluminium Radiator for your home.
Heat Calculator
Calculate My Heat Requirements
FREE UK Delivery
Spend over £100 and get free UK delivery.
Buy With Confidence
Prior to your order being processed we will call you to check details.
Visit Our Showroom
Know what heat output you require? Enter it into the below field and we'll let you know if a radaitor is right for your room.
Not sure what output you need to fill your room with heat? Complete the form below to calculate your required heat output.
My house was built after 2002 or is well insulated (part L compliant)
My room has French doors / large window.
My room has single glazed windows.
My room is exposed & colder.

Aluminium Radiators
Aluminium radiators heat up a quicker than other materials used in designer radiators and also give out high heat outputs due to manufacturing process allowing unique designs for the radiator and increased surface areas when compared to similar sized steel radiators. This can mean economical heating. The aluminium radiators we have in our designer radiator range are manufactured from recycled aluminium meaning they meet eco credentials and are environmentally friendly.
We stock high quality aluminium radiators which have been selected through our ISO accredited selection process, we have handled every aluminium radiator we have in our range. Our quality range of Aluminium designer radiators provides style, longevity, high heat outputs and energy efficiency. Aluminium radiators provide a range of designs, there are traditional aluminium radiators like our Retro or the more modern radiator style in aluminium like our Alchemy radiator, so you can choose which aluminium radiator style will allow you to make a statement in your interior.
Our aluminium radiators are easy to install, they have standard connections – BSP (British standard plumbing), they are lightweight designer radiators, so even large models in the aluminium radiator range which can produce a lot of heat can be well within 30 kilograms and be mounted on many wall types easily.
Vertical aluminium radiators have become very popular in homes due to the space saving credentials and high heat outputs, we can take up very little width on the wall and generate a lot of heat with a vertical aluminium radiator. We have a wide range of vertical designer radiators available and aluminium is increasingly the interiors choice.
Horizontal aluminium radiators are exceptional at providing great heat outputs for the sizes we can specify. Aluminium radiator designs are increasing and we stock unique radiator designs, aluminium radiators can now be funky radiators in a variety of colours or subtle and in nice whites to fall into the walls of your homes interior.