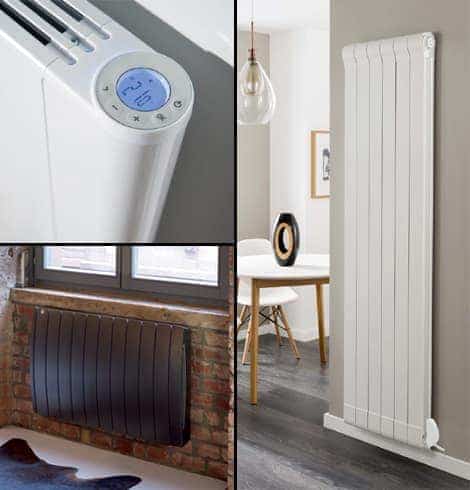 Electric aluminium radiators
Electric aluminium Radiators are a popular choice for many reasons. They are lightweight and come in a huge range of styles and colours, they are easy to transport and hang, many have modern designs that look stunning in any home, they have excellent heat output, and they come with a slim profile and clean lines. They offer sustainability due to the majority of models coming from recycled aluminium.
Adding WIFI controls to your electric aluminium radiator will mean savings in both cost and environmental impact. They are an architects perfect solution
Choose from a huge range of Aluminium Electric Radiators in our store today.
Alchemy Aluminium Radiators have clean lines, simple styling and high performance. They are very efficient too, making them a good eco-friendly choice.
But there are many more designs to choose from, including Vertical electric aluminium radiators.
They are the best heating solution for the environmentally friendly radiator specifier.
Go on and take a look to see if anything stands out to you. And remember that we are always here to help you make your decision.
High-Quality Aluminium Electric Radiators
At Feature Radiators, we only sell products we genuinely believe in. We only want the very best radiators here. That's what we are known for, and what matters to us most. We don't work on commission, and all we care about is ensuring our customers go away happy knowing that they have found the perfect radiator for their home.
Browse our collection of Aluminium Electric Radiators today and see what you can find. Does something stand out to you? We will be more than happy to answer any questions you have to help you make your decision. Want some suggestions? Just ask!
We love radiators and it's so important that we help you find the right one, whether one of our Aluminium Electric Radiators or something else. Our reputation matters to us, and we are widely considered the radiator experts and that is something we take very seriously.
We stay on top of all the latest industry developments, and we only sell the best radiators that have been fully checked by our experts. We'll send your Aluminium electric Radiator to you safely packaged, and we even offer Free Shipping in the UK.
So start here today, explore our range and find your new Aluminium Electric Radiator for your home.
Heat Calculator
Calculate My Heat Requirements
FREE UK Delivery
Spend over £100 and get free UK delivery.
Buy With Confidence
Prior to your order being processed we will call you to check details.
Visit Our Showroom
Know what heat output you require? Enter it into the below field and we'll let you know if a radaitor is right for your room.
Not sure what output you need to fill your room with heat? Complete the form below to calculate your required heat output.
My house was built after 2002 or is well insulated (part L compliant)
My room has French doors / large window.
My room has single glazed windows.
My room is exposed & colder.