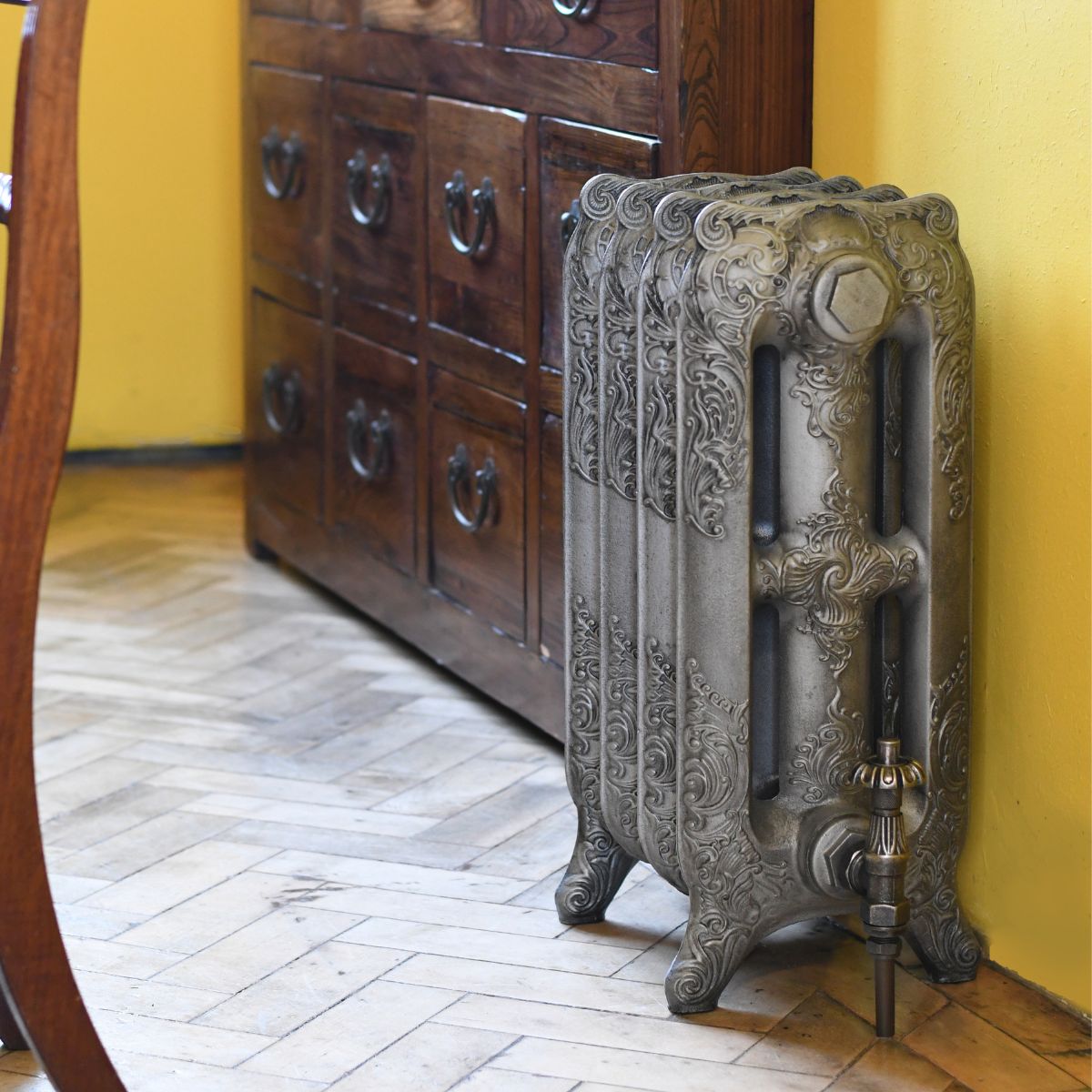 Ornate Cast Iron Radiators
We have been specialising in high-quality cast iron radiators for two decades, and we offer a wide range of styles to choose from. Our Ornate Cast Iron Radiators comprise some of our most popular designs. Just take a look over the products below and you'll see why!
These are real feature items of any home, and they are particularly popular in period properties. We've provided them to several National Trust properties over the years, but they look splendid in any type of property.
Ornate Cast Iron Radiators are an easy way to add elegance and style to any setting. Rather than just doing a job of heating, they really become a feature of the room.
We have a selection of ranges to choose from including the Downton, Nightingale, Liberty, Rococo, Bodleian and Burlington ranges. They all offer something slightly different, but they are all made to the same exacting standards for a high-quality heating solution for your home.
With truly stunning ornate casting harking back to a bygone era, our Ornate Cast Iron Radiators provide a classy look for any interior. Choose from a selection of antiqued finishes and paint finishes, or choose a radiator with ornate scrollwork, bringing opulence and glamour to any room.
They also come in a range of sizes. Shorter radiators are designed to go underneath the windows in period properties, while others like the Liberty range are designed for those who want to combine old with new in more contemporary settings. With excellent heat output, these efficient radiators will warm your home while adding a splendid visual touch.
Where Quality & Style Combine
At Feature Radiators, we only focus on radiators and nothing else. That way, you can be sure that you're choosing genuine experts when you get a radiator from us.
Our focus is on quality. We only want the very best radiators in our collection, which provide both excellent heat output, stunning style and value for money. If it just looks nice but doesn't offer great value for money, you won't find it here.
Our Ornate Cast Iron Radiators are some of our most popular models, and we invite you to look over our collection and find something that stands out to you. We are here to answer any questions you may have, and we always enjoy speaking with our customers and offering our advice and guidance.
We've been providing high-quality radiators for two decades, and there's nothing we don't know about them. So explore our Ornate Cast Iron Radiators today and get in touch to find out more. Once you have made your order, we provide FREE shipping in the UK.
Heat Calculator
Calculate My Heat Requirements
FREE UK Delivery
Spend over £100 and get free UK delivery.
Buy With Confidence
Prior to your order being processed we will call you to check details.
Visit Our Showroom
Know what heat output you require? Enter it into the below field and we'll let you know if a radaitor is right for your room.
Not sure what output you need to fill your room with heat? Complete the form below to calculate your required heat output.
My house was built after 2002 or is well insulated (part L compliant)
My room has French doors / large window.
My room has single glazed windows.
My room is exposed & colder.