Homeowners have more choice than ever before when it comes to choosing appliances for their home. Contrary to years gone by, where it was more generally a case of a one-size-fits-all solution due to restricted choices, these days, the world is your oyster.

This fact could not be illustrated more perfectly than by the options offered to us nowadays for our radiators. Traditionally, we would never have thought that we could have any say over the style of our radiators, however, today we know differently.

Vertical radiators have transformed the home, offering a more modern and contemporary style for your home's heat source. Interior designers and architects, in particular, are head over heels for this fresh new perspective on heating and the versatility it brings to design.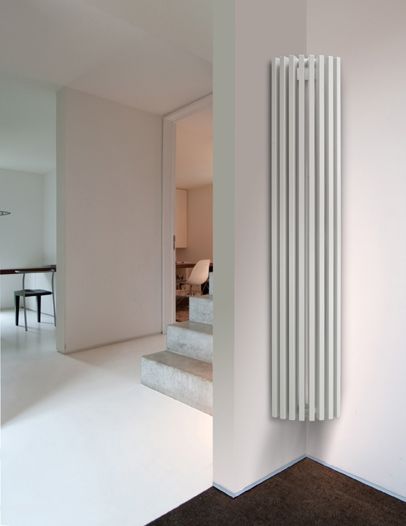 Maximises space
One of the biggest advantages of vertical radiators is that they enable a room to gain a lot more space. Usually, when we are thinking about the layout of a room, we are often forced to consider where horizontal radiators are placed, so that we can avoid placing furniture there and blocking the heat.

However, with a vertical option, you are afforded much more openness in your designs. This is because you do not have to think more strategically about where to put larger items, such as your sofas or storage units, for example, because the radiator takes up a whole wall.

Instead, as a vertical radiator will only use up a very small part of a room, because they face upwards, you are free to think about using the space in your room in the best possible way for your needs.

They can also open up the potential for maximising space in rooms where you might not have previously thought it possible - for example, in the kitchen. This is an area where you might think you are restricted because of where ovens need to go or cupboard space.

However, you can increase the amount of cupboards you want in your kitchen or find room for a bigger fridge or find room for another appliance because of the space-saving that is created by a vertical radiator.
Windows are not a problem
Another difficulty that is usually encountered with the classic horizontal radiator is that windows often present an issue. This is due to the fact they are usually placed beneath a window, but the loss of heat, the sizing of the window, etc. can all present issues with getting the correct radiator and whether there is space for it.

However, thanks to the advent of vertical radiators, you can now have your radiator on either side of your window, if you want to. There is no longer a restriction caused by your windows, so you can design your room freely and much more easily, with the emphasis placed solely on your aesthetic preferences.
Much more choice around style
Because vertical radiators are so versatile with the type and style of rooms they can be placed in, there is also a range of style options to suit various tastes.

There are sleek, flat-panel convector radiators for a modern finish that would suit a studio apartment; traditional looking column radiators that blend well with period style properties; and designer vertical radiators that offer a range of features, such as square, U-shaped profile tubes or the latest aluminium in a slimline design.

The choice with designer vertical radiators also extends to more colour options, from the traditional white to the hugely popular anthracite dark grey to the even more daring and adventurous shades, such as bright orange!

There really is an option to suit everybody, whether you are looking for a radiator for a trendy, modern office or you are a homeowner just looking for a stylish option that is in keeping with the rest of your home; or you are an architect or designer looking for the right solution for your latest project. One thing is for sure - vertical radiators will definitely transform your space.