When it comes to choosing radiators there are two main options, horizontal and vertical. But which one is right for your home? While there is no right or wrong answer to this question, there are pros and cons to each. So, in this blog, we are going to look at the benefits of both types to help you make the right choice.
Benefits of horizontal radiators
We'll start with the most common type of radiator. Horizontal radiators are found in most modern homes and come in a range of sizes and styles. This makes them suitable for heating rooms of all sizes from the cupboard under the stairs to large family rooms.
Typically this type of radiator is installed in the coldest part of the room, which is usually the dead space under the window. This gives them the advantage of not taking up as much usable space as vertical radiators giving more freedom for placing items of furniture.
Another advantage of horizontal radiators is that they can be fitted using the existing pipework. This significantly reduces installation costs and cuts down on the amount of disruption in your home. So if you're on a tight budget, horizontal is the way to go.
Many people associate horizontal radiators with the traditional style white panel radiators of the 1970s. But today, horizontal radiators are available in a wide range of colours and styles. Traditional iron-style pipe radiators are popular for trendy loft-style interiors while ultra-flat-panel units are perfect for creating a sleek contemporary look.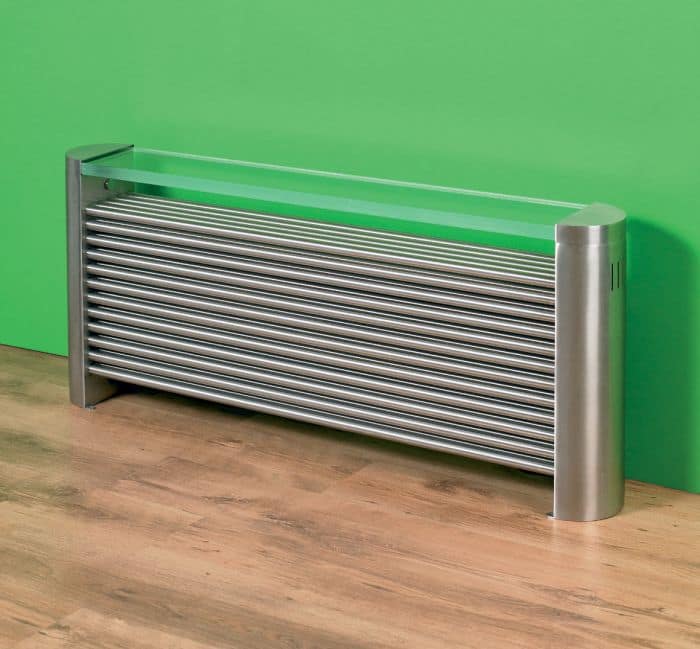 The main benefits of horizontal radiators include:
Cheap to install
Less disruption during installation
Double panels available to heat large rooms
Use of dead space below windows
Benefits of vertical radiators
Vertical radiators are seen as the trendy modern alternative to traditional horizontal radiators. Their unconventional style and imposing presence make them ideal for creating modern sleek interiors.
But vertical radiators are not just about style, they can also make a practical choice for some rooms. Because the radiators are long and tall they are ideal for rooms with limited wall space. That makes this type of radiator ideal for heating open plan kitchen/family rooms which have large volume but limited exterior wall space.
The thin profile of vertical radiators means they are also a good option for heating small or unusually shaped rooms. Such rooms include bathrooms, hallways and staircases which are often the coldest rooms in a home heated with traditional horizontal radiators.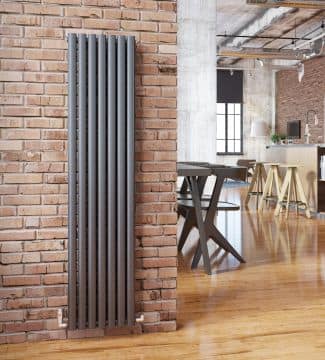 The main benefits of vertical radiators include:
Great for heating rooms with limited wall space
A good space-saving option for smaller rooms
Creates more freedom for placing furniture
Can be used to create a centrepiece for your interior
Conclusion
As you can see, there really is no right or wrong answer to this question. The right radiator for your home will depend on the type of look you want to achieve, your available wall space, room shape and of course budget.
But of course, you don't have to choose one type over the other. There is also nothing stopping you from combining both types to create a warm and inviting home, your family and friends will love.
If you would like help choosing the right radiators for your home, give our team a call or complete the contact form here and we'll get back to you at a convenient time.