Alchemy Electric Radiators
High output and low water content. Bring pure chemistry to your home with the Electric VIP radiator range (Alchemy), where form and function thrive as equals. The simple styling, clean lines and sophisticated colours of the Electric VIP ooze quality and form, whilst the high performance, rapid reaction time and efficient energy use equal good function.
High heat outputs
Vertical model available
Eco-friendly
Calculate My Heat Requirements
Lead Time:Approx 3 to 5 w/days (white) / Approx 1 to 2 weeks (other finishes)
What our Customers Say About Us...
From
Know what heat output you require? Enter it into the below field and we'll let you know if a radaitor is right for your room.
Not sure what output you need to fill your room with heat? Complete the form below to calculate your required heat output.
My house was built after 2002 or is well insulated (part L compliant)
My room has French doors / large window.
My room has single glazed windows.
My room is exposed & colder.
Please select your Delta T Value
Using the dropdown below, please set your Delta T Value for use throughout the site.
Set Delta T Value
IMPORTANT INFORMATION
Lead time: All sizes white are assembled to order: approximately 3 to 5 working days. All other finishes are by special order: approximately 1 to 2 weeks.
Finishes: White (RAL 9010) as standard. Other colours and finishes are available by special order from a wide range; colour card and swatches are available on request.
Sizes: Even more sizes are available - please ask us if you are looking for a specific size and we can provide a quote. Alchemys are made up of individual sections that have been joined together:

Upto 1m tall = Up to and including 20 sections wide come ready assembled, in one piece - longer sizes available for on-site assembly.
Over 1m tall = Up to and including 10 sections wide come ready assembled, in one piece - longer sizes available for on-site assembly.
On site assembly will require a joining tool - this is supplied on a sale or return basis.

Electric element: This radiator is a central heating radiator that is supplied with a DIY electrification kit - full installation instructions are provided.

The element has a dial on it to enable you to adjust the temperature (operating range 20-70°C) or set it to frost protection when not in use.
It does not have a timer as standard.
It can be upgraded to add extra functions and controls, via in-house controllers or via an app on your device(s); the aim being to minimize energy wastage and maximise efficiency - contact our sales team for more information.
Please allow an extra 60mm width to allow space for the element control box.
White radiators are supplied with a white element control box. Other finishes are available on request for a surcharge.
The electric element has 1m of white flex.
240V on/off operation.
Material: Made of aluminium.
Delivery: We offer delivery to most addresses on the UK mainland (excluding some remote areas) [MORE INFORMATION]
Fixings: Radiators are supplied with the necessary fixings i.e. wall bracket, plugs, bushes and vents. Screws are not supplied.
Projection from the wall: 114mm to 118mm (bracket has two settings).
Manufacturer's guarantee: 5 year manufacturer's guarantee against manufacturing defects on the radiator body and 1 year manufacturer's guarantee against manufacturing defects on the electric element.
Terms and Conditions: All sales are subject to our standard Ts and Cs; a copy can be downloaded from our website.
VAT: The prices shown are inclusive of VAT.
More Information

| | |
| --- | --- |
| Featured Product | No |
There is no Price List.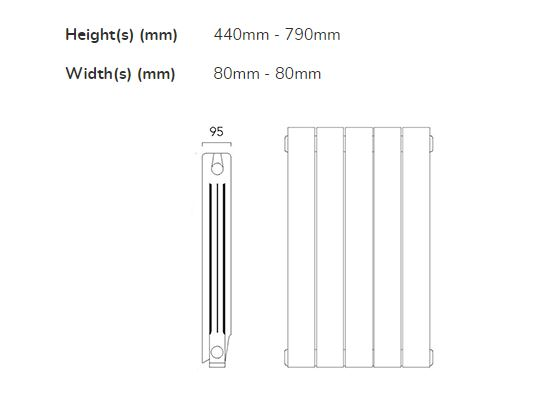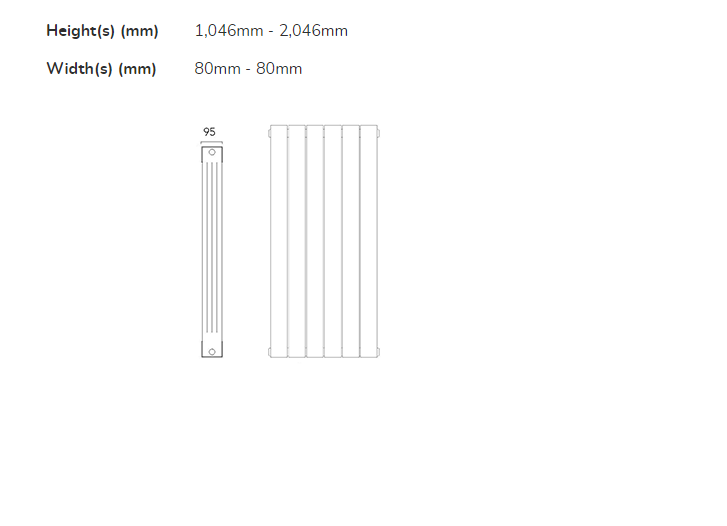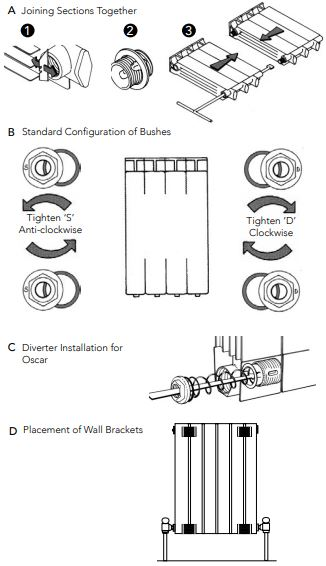 Buy With Confidence
A member of our team will call you to ensure the radiator you're buying is the right fit for your needs.
Free UK Delivery
We offer delivery to any UK Address for FREE on all orders over £100
Well Established
We've been in the radiator game for 20 years, our knowledge on radiators and all things radiator is second to none... unsure about something, give us a call.