Twister stainless steel radiators
Made of stainless steel, the flat vertical bars (which are polished on one side and brushed on the other) are twisted through an entire 360 or 720 degrees from top to bottom. An awesome design statement with powerful performance, the Twister is forecast to blow you away.
20 year warranty
Wow-factor guaranteed!
Stainless steel construction
Calculate My Heat Requirements
Lead Time:Approximately 3 to 4 working days
What our Customers Say About Us...
From
Know what heat output you require? Enter it into the below field and we'll let you know if a radaitor is right for your room.
Not sure what output you need to fill your room with heat? Complete the form below to calculate your required heat output.
My house was built after 2002 or is well insulated (part L compliant)
My room has French doors / large window.
My room has single glazed windows.
My room is exposed & colder.
Please select your Delta T Value
Using the dropdown below, please set your Delta T Value for use throughout the site.
Set Delta T Value
IMPORTANT INFORMATION
Lead time: All sizes are usually in stock in the UK – approximately 3 to 4 working days.
Finishes: Bars are brushed on one side and polished on the other. Brushed stainless steel has a matt finish similar to the most popular finish of cooker hoods for example. Polished stainless steel has an appearance similar to chrome.
Design: "360" = radiators with a 360 degree twist. / "720" = radiators with a 720 degree twist.
Material: Made of stainless steel.
Delivery: We offer delivery to most addresses on the UK mainland (excluding some remote areas).
Fixings: Radiators are supplied with the necessary fixings i.e. wall bracket, plugs, bushes and vents. 1/2" connections are supplied as standard. Screws are not supplied.
Valve connections: 5 bar models have underside valve connections / 7 and 9 bar models have both side and underside connections. (If using side connections, add an extra 150mm to the width of the radiator to allow for valves. These are not pipe centres.)
Valves and finishing touches: These not included as there is now so much choice available. See our Valves page for valves and accessories to complete the look.
Pipe centre measurements: Approximate pipe centres can be provided if you wish to install your pipework in advance of receiving your radiator.
Manufacturer's guarantee: 20 year manufacturer's guarantee against manufacturing defects.
Heat outputs: These are shown at operating temperatures of Delta T 50. To alter this, please use our handy Delta T Value Changer shown on every product.
Water treatment: The manufacturer's guarantee will only be valid if your radiators are installed in accordance with British Standards. This means that, on completion of installation, the system should be properly flushed and filled to remove debris and minimise the presence of solid particles and chemical residues, which may cause corrosion and damage within the system. Corrosion inhibitor should be used in accordance with British Standards and should take into account the particular metals within the system.
Terms and Conditions: All sales are subject to our standard Ts and Cs; a copy can be downloaded from our website.
Tested to meet EN442 certification
CE Marked
VAT: The prices shown are inclusive of VAT.
VAT: The prices shown are inclusive of VAT.
More Information

| | |
| --- | --- |
| Featured Product | No |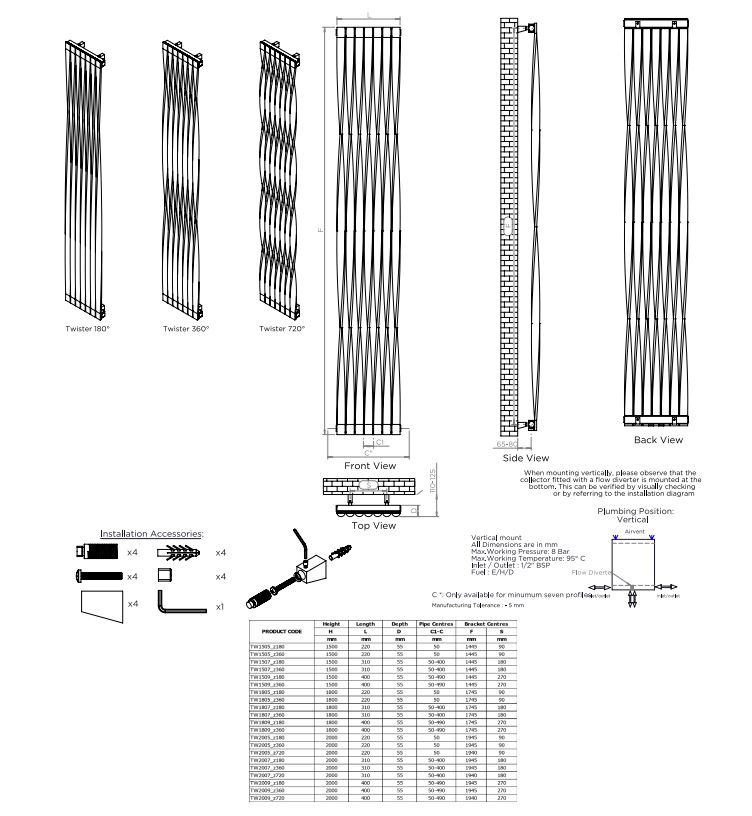 Buy With Confidence
A member of our team will call you to ensure the radiator you're buying is the right fit for your needs.
Free UK Delivery
We offer delivery to any UK Address for FREE on all orders over £100
Well Established
We've been in the radiator game for 20 years, our knowledge on radiators and all things radiator is second to none... unsure about something, give us a call.