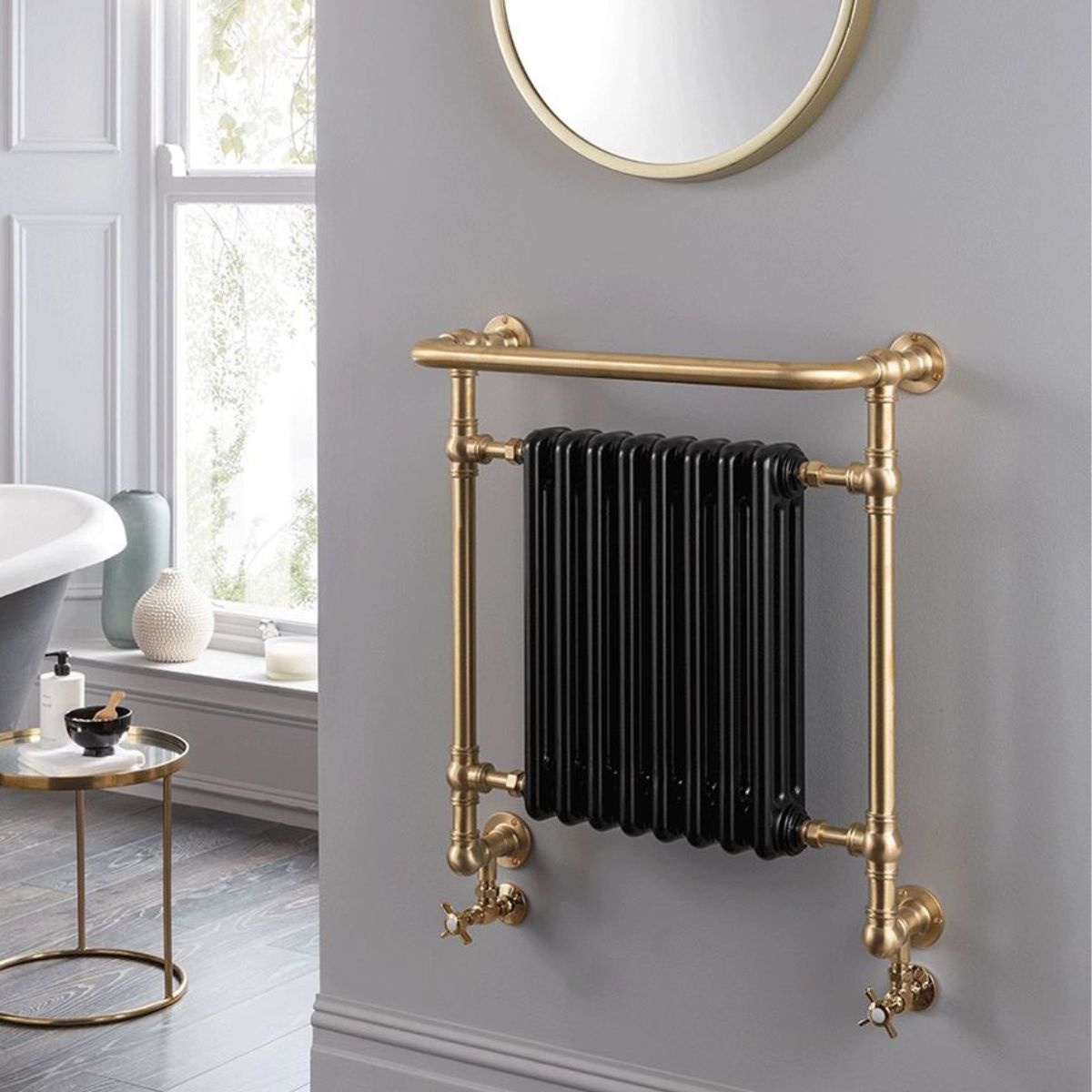 Perfect for the smallest room in the house, heated towel rails are an ingenious space saving method of heating the bathroom, kitchen or cloakroom whilst providing you with warm and toasty towels.
Our bathroom radiator collection comprises of a stunning array of modern designer towel rails and traditional towel radiators in a huge range of designs, sizes and finishes, many of which are available in electric and "dual fuel" versions as well as for just central heating.
Choose from the most popular ladder-style rails in gleaming chrome, classic white or striking colours or go for a contemporary towel heater made of stainless steel, offering a stunning, easy-clean finish with a long life expectancy even in wetrooms. Mirror radiators also add the feeling of light and space. Alternatively go for a period style towel radiator with ball-joints in brass, chrome or copper finishes, perfect for any traditional setting.
Prior to any online order being processed, you will be called to check through your order details. Please order with confidence.
Heat Calculator
Calculate My Heat Requirements
FREE UK Delivery
Spend over £100 and get free UK delivery.
Buy With Confidence
Prior to your order being processed we will call you to check details.
Visit Our Showroom
Know what heat output you require? Enter it into the below field and we'll let you know if a radaitor is right for your room.
Not sure what output you need to fill your room with heat? Complete the form below to calculate your required heat output.
My house was built after 2002 or is well insulated (part L compliant)
My room has French doors / large window.
My room has single glazed windows.
My room is exposed & colder.

Page
You're currently reading page

3
Will a heated towel rail heat my bathroom?
Yes, provided it's the right size for your bathroom. If you intend to use a towel radiator as the sole source of heating in your bathroom, then be sure to choose a towel radiator that gives out enough heat for your room. You can calculate the required heat output using our formula as stated above or contact our sales team who can do it for you. Be aware, bathrooms need to be a lot warmer than other rooms in the house, to counteract the lack of clothing!
Towel radiators fall into two categories: those used solely to warm towels (where a separate radiator is used to heat the bathroom); and those used to warm towels and heat the bathroom. If your bathroom is compact and well-insulated, you shouldn't have a problem finding a towel radiator that will heat your bathroom and keep your towels warm. If on the other hand, your bathroom is large and/or poorly insulated, most conventional towel rails will not have the capacity to heat it on their own.
The best solution would be a powerful radiator, with integral hanging rails for your towels. Many of these towel radiators are included in the towel rail and contemporary sections of this site. Remember: towel rails don't just have to go in the bathroom, so why not go for one in your kitchen as well? See our Youtube guide How to choose a towel rail